Need to improve your email marketing results?
I can help! As an email marketing consultant and MailChimp Expert, I will help you use email marketing to talk with your community. And turn your community into customers. I have 16 years of email marketing experience, improving campaigns with A/B testing, advanced list segmentation, automation, and compelling content. Also, check out Deliver – my monthly email marketing consulting and content strategy service. Let's transform your marketing, one month at a time.
Email Marketing Consulting & Newsletter Management Services Including: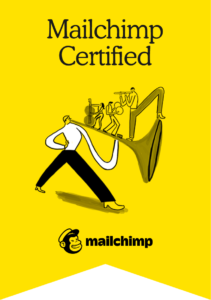 Email Marketing Audit, Strategy, & Action Plan
Setup – new list or migration to a new provider. Everything from a base strategy to a full implementation or list migration. Including segmentation, customer data, template optimization, campaign setup, coaching etc.
Ongoing Newsletter Management – writing, editing, planning, measurement & testing
Advanced Help – list segmenting, automation, transactional email
3 Month Discount. When you hire me for an email marketing project, I can get you three FREE months of MailChimp service.
The Email Newsletter Management Service includes everything your business needs to grow and convert through email marketing. Whether you need a one-time audit, strategy, and structure set up or need ongoing monthly newsletter management. Add on to my content strategy and blog management service or stand alone.
I'll make sure your email list isn't just growing, but also converting.
The goal is to increase your email marketing channel performance – (measured through revenue, orders, engagement etc.)
There are two types of businesses I can best help:
 Established / Growing
You've had a newsletter for several years. You're experiencing growth in your company. And you need an outside perspective on your email marketing. What's working, areas to improve, and how everything that you've been adding on over the last couple years fits together. From both a transactional/triggered email (SendGrid, Mandrill, Amazon SES etc.) and newsletter (MailChimp, Aweber etc.) perspective.
 New / Getting Started
You're new to newsletters and email marketing. While your business might be established, your list is new or non-existent. And you want to see how email marketing can help your business grow.
What clients are saying:
"We wanted a critical eye on the changes that needed to be made—outside of our company, so as to not factor in logistics of seeing the changes through: a smart, neutral party. The output was so focused on our business nuances and had thoughtful recommendations. We're now equipped with the knowledge (and confidence) to make big changes in order to see meaningful results." —Kacie, Good Eggs

"It felt like we had a million possibilities of things to test, and not enough time – so, embarrassingly, we just weren't making any changes. Understanding where to focus for the biggest impact was empowering. I feel like I'm not second-guessing my changes – it's just part of my process now." —Sean, Withheld
From email marketing strategy, to implementation, to on-going marketing campaigns. I can be as hands on or off as you need.
Interested? Email me to see if we're a good fit to work together.