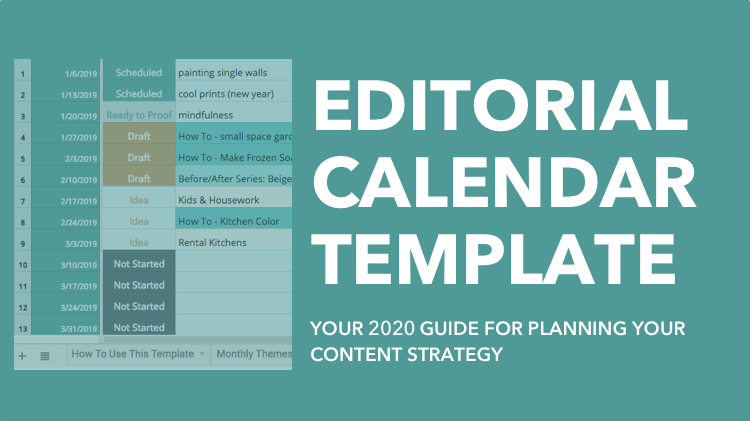 A template to plan your content, grow your traffic, and save time in the process.

Do you want to plan out your content for the next quarter or year?
Do you want to identify your content niche for your blog so you're not starting from scratch each week?
Do you want to make sure you have the marketing details (SEO, slug url, post titles etc.) covered for each post?
Do you want to grow your blog, business, audience, and authority like a professional?
Get your 2020 Editorial Calendar Template for Planning Your Content Strategy
A content plan or strategy helps you produce the right content, for the right people, at the right time. An editorial calendar template gives you a process for producing content on a consistent basis.
Free Guide: Become your own
Content Strategist with these lessons
Get quick, actionable advice on how to use content to grow your business.

7 lessons, delivered to your inbox each day.
Strategically plan out your content for the year. Follow my process and get your content ready to grow your business.
Download as an Excel workbook or use with [Free] Google Sheets.
Including:
Monthly Themes Worksheet: On this tab, you can take a step back from your daily or weekly post planning and identify monthly topic themes, events or products that you plan to launch, along with holidays that fall in each month
Weekly Post Frequency Editorial Calendar:On this tab, you can outline your weekly blog post topic, title, goal, and promotion strategy
Daily Post Frequency Editorial Calendar: If you blog on a daily (or more frequent than 1x/week) use this tab instead of the weekly post tab
Content Plan Price: $24
That's only $2/month for the year
Lifetime Access: Receive all future years' updates for free
What people are saying about the Editorial Calendar Template:
"Thanks so much for this update! We have used your calendar since 2014 and it's great! I appreciate the work that goes into this!" -Kelly C.
"Really clear and useful!" -Mary R.
"As a one-person business there are never enough hours in the day and I find myself getting pulled in different directions. I downloaded the Editorial Calendar and have tweaked it to my needs. Thanks for sharing!" – Paula K.
"Thanks it is already helping a great deal." -Crystal L.
"This is wonderful. Thanks SO much." -Jessica P.