Before you create an email marketing strategy, there are some things that can make your work a little easier. This post is all about assembling your toolkit — before launching straight into a strategy. One of the first things I do when working with a new client is to do a communication audit – including creating an email onboarding flowchart.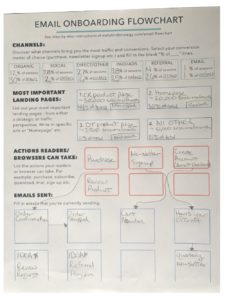 An email onboarding flow chart can also be thought of as an "audit" or review of the emails you're sending. It's a look at how people experience your messaging as they first interact with your website. Some refer an onboarding flow chart to a UX role, but in this case we'll be taking a look at it from on email marketing perspective. Take a look at the example flow chart to the right. This onboarding flow chart takes a look at all the ways Sample Company is currently communicating with their newsletter subscribers through marketing and transactional emails.
Why a visual flowchart?
Why do we use a flow chart? Creating a flowchart, or mind map whether that's a digital version (or even just sketched out on paper) is one of the best ways to get a quick visual of what's happening in your messaging. With this flow chart you can see what's going out based on actions or things your users (readers or customers) are doing. With this structure in place, you can see where there's room for improvements, changes and testing.
To keep confusion to a minimum, start out with your marketing (newsletters etc) and transactional emails. Either make small side notes or create a separate flowchart to include items that have to do with notifications – "signing up", account changes, password requests etc. Those emails need to be kept track of as well, but for analyzing to create an email marketing strategy, you'll focus on marketing and transactional emails first.
Pick your tool of choice – software or pen and paper
Grab a pen and paper or your favorite mind mapping software and let's do a quick overview. You could also use a text file, or a spreadsheet, or some kind of fancy software to outline this information. In future steps, you'll also be digging into Google Analytics and any email marketing reporting you already have if needed.
Draw boxes for any automated emails you're currently sending (order confirmation, welcome email etc.).
Free Worksheet
Use this worksheet to sketch out your onboarding email flowchart, or just go free-hand.
FREE EMAIL ONBOARDING
WORKSHEET
---
Use this step-by-step worksheet to improve your onboarding and sales by sketching out your current traffic and emails.
In the next post, we'll cover the first section of the worksheet – where your readers or browsers are coming from – Channels. Adding this information into your flowchart shows you what channels you're acquiring visitors from. For example, social, organic search etc. Stay tuned…