With the holidays approaching, it's not too late to get your business and marketing prepped for the shopping season. Depending on your business, this is either the hectic and exciting busy season (retail/ecommerce) or if you are on the consulting side, it might be time to hunker down and plan for the coming year. Either way, here is how to plan for your holiday marketing.
Whether you have a retail store or sell online, sell tangible goods or digital products, run a shop or run a 1-person consultancy — here are nine things to consider before the madness of the holidays sets in.
Holiday Marketing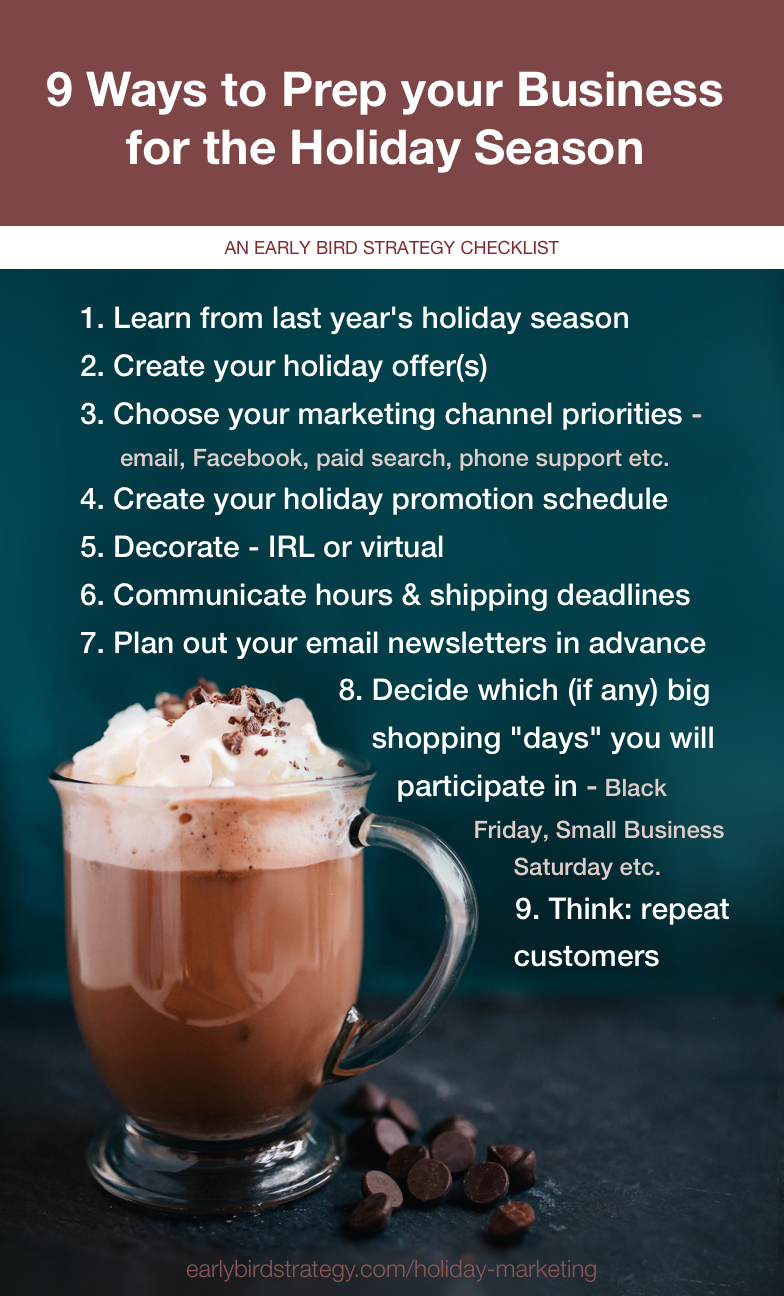 #1. What did you learn from last year?
One of the most important ways to make sure you're not forgetting anything this holiday season is by analyzing what happened last year. Here are a few places to start on researching last season:
Sales data – what were you biggest sellers from last season? (consistent with year round? specific gift items? etc.)
Campaigns – what marketing campaigns or offers had the biggest impact on revenue? (free shipping promo etc.)
Competition – do you remember any campaigns your competitors did last year that you wished you'd thought up? (what can you apply?)
Website traffic – what pages/categories etc. on your website saw the most traffic (or the biggest increase) last November/December? (blog posts, gift guide, specific items, category pages etc.)
Channels – what were your biggest marketing channels last season – from a volume or ROI perspective? (Google, Paid Search, newsletter, Twitter, Foursquare, Yelp reviews etc.)
Change / Trends – what are some of the biggest changes your business has experienced or trends that have impacted your business/industry in the last year? Want more? Check out Think With Google's holiday trends article.
#2. Create your holiday offer(s)
According to the National Retail Federation, November and December can account for as much as 30% of a retailer's annual sales. Customers are ready to buy and your competition is figuring out their best offers. Creating a holiday offer does not mean you have to jump straight to discounting. Whether you add an upgrade/gift, promo code, free shipping, bundle, partnership with another company etc. do what fits your company's style – even if that means no discounts.
Local? Think how you can partner with other businesses or events happening in your 'hood. Nothing really going on? Host your own event or shop open house. Or offer a gift certificate that can be purchased last-minute.
Consultant? Think how you can offer a service or productized service to past clients.
#3. Decide what channels are going to be your biggest focus
You can't be everywhere and do everything. Choose which channels are going to be your highest priority and which fall more in the "when we have time" category. Email marketing is typically the #1 channel during the holidays. Maybe Facebook is where you'll need to be vigilant for customer support and promoting your holiday offers, while Twitter might play second fiddle (or vice versa). Do a little internal research and make sure you and your team are aware of which channels are highest priority. Reminder: mobile, mobile, mobile – keep in mind your mobile traffic and shoppers in everything that you do- it's often a completely different experience.
#4. Create a holiday marketing calendar
Shopping momentum typically builds through November, goes wild in December, tapers as the holidays come and then surges again with returns and customers buying what they really wanted post-holiday. Build a promotion schedule with a holiday marketing calendar. Plan out what offers and channels will be promoted when. Remember to build in production time for design and content that needs to be created – for example: gift guides or "staff picks". This schedule can be weekly or daily – so long as you remember what you're doing and when.
Last minute – Unless you have a retail shop or are local, after the holiday shipping deadlines pass, consider how you'll still be able to make some holiday sales. Can you offer a gift card that can be purchased last-minute and redeemed later?
#5. Decorate
Whether you have a real space to decorate or just a virtual world, having a theme and design for your holiday communication is a great idea. Show customers that you're feeling festive, but make sure it matches your company's design aesthetic. Feeling unsure in this department? Go minimal and stick to one color. While Pinterest is full of design ideas, a quick tip is to go back to last year's emails from brands you admire and see what you liked/disliked about their holiday "decor".
#6. Communicate your holiday hours and/or shipping deadlines
In ecommerce especially, keeping customers happy and their expectations in check is a big priority. Holiday shipping and return deadlines need to be communicated often and clearly. What's the last day customers can place an order with you that they will still receive it by Christmas Eve — via Ground, 2nd Day or Next Day etc. Depending on your business and shipping service, figure out the cutoff time and let your customers know — "order by 2pm on Dec 20" etc. Here's an example schedule:
This year, Christmas falls on Friday, December 25, so the last day UPS delivers packages is Thursday, December 24:

-December 17 – Last day to order items using Standard Ground Shipping.
-December 19 – Last day to order items using 3 Day Shipping.
-December 22 – Last day to order items using Two-Day Shipping.
-December 23 – Last day to order items (by 2pm) using One Day Shipping

UPS Schedule
Local? Check that your hours are accurate on sites like Yelp and Foursquare so you don't miss out on business.
Consultant? Get that Out of Office reply ready — make it interesting and fun!
#7. Holiday email marketing – Don't forget your newsletter list!
As Christmas approaches, it's safe to say that we're inundated with holiday marketing from retailers reaching out trying to maximize sales. A few retailers I counted sent out EVERY day in December. That's aggressive. Remember to keep in mind your current send frequency and your business goals before ramping up your frequency. If you typically send on a weekly basis, your customer can probably stand to hear from you a few times a week during the holidays. Just remember to keep in mind why you're sending. Do you have something cool to share? Customers are prepared to hear more from retailers at Christmas, and are typically ready to spend – so give them your best offer and be useful. And segment! People opening your stuff is an indication they want to hear from you. Send them more. Send non-opens fewer emails.
Remember, you don't need to have every email be about sales. In fact, they shouldn't! Put yourself in your customers' shoes. How can you make their holiday season easier or more fun? Are you in the food or lifestyle space? Give them ideas for hosting a fun party. In the family or children space? Share an advent calendar DIY for kids. In the office space? Share ideas of low-key office parties etc. Be a resource – not just a sales hound!
Consultant? Send cards or a client gift. Feel like you're already too late? Send a New Year's card – also a great way to stand out from the onslaught of generic holiday cards most business get in mid December.
#8. Are you participating in any holiday "shopping days"?
There are a few big shopping days that kick off the consumer-driven holiday season. Whether you choose to ignore, participate, or even boycott, these "holidays" will probably impact your business anyway (great sales elsewhere might reduce your orders if you don't participate), or even acknowledging / boycotting it might be a relationship strategy for your community. Either way here's what's happening:
Black Friday or Buy Nothing Day – Friday, November 27, 2020
Small Business Saturday (promoted by AMEX) – Saturday, November 28, 2020
Cyber Monday – Monday, November 30, 2020
Free Shipping Day (note: it's just a site that uses affiliate links) – Monday, December 14, 2020
#9. Think long game
Try to think long game strategy all season. This might be your most profitable time of year, so how can you translate this business into repeat customers down the road? From customer support to email newsletters. Be good!
Reviewing your shipping or checkout process is a good pre-holiday idea. Do you plan to include coupons for future use or hand out some kind of unexpected treat at the checkout of your store? Make sure you have this figured out and have communicated it to your staff.
Have a plan in how you'll be communicating with these new customers and making them welcome in your community in the new year. Having an "Is this a gift?" checkbox and message option in your checkout is also a great way to identify people who might not fit into your regular community base (ie. a parent etc.), but could give a gift again in the future.
Do you have any holiday marketing tips to share?
Leave them in the comments!