You don't have to blog.
There are plenty of things you can create to connect with your audience and grow your business, beyond blogging. If you do blog, highlighting that content in your newsletter is a no-brainer. However, it can be challenging sometimes to come up with content ideas for your newsletter that isn't just a syndication of your blog.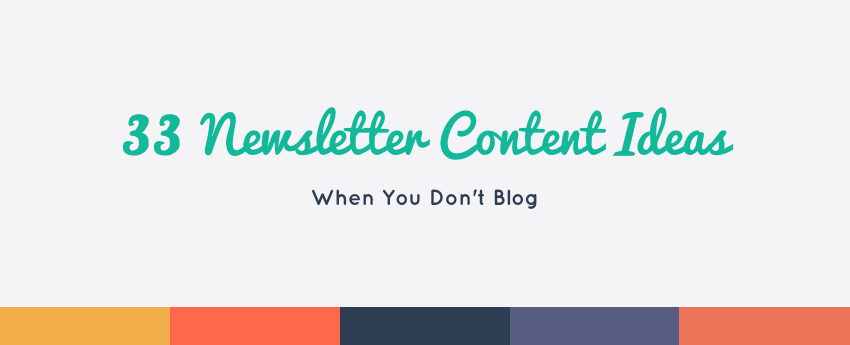 If you don't blog, or just need some new ideas to mix things up for your newsletter content, here are…
33 things to highlight instead:
Your new products/services
Featured or sale products/services/brands
Reviews of products/services
Giveaways and contests
Industry-related news from around the web
Events – your events, local events, online events, upcoming, past etc.
Partner companies or brands – profiles, features, interviews
Promote others as a resource
Seasonal content – holiday-related, National holidays, made-up fun holidays, other seasonal
Current events – that apply to your audience
Popular content that you've been sharing on other social channels – Facebook, Pinterest, Twitter etc.
Recaps of past events
Photos
Customer or reader profiles – how they use your product, things they've learned, tips/tricks etc.
Exclusive content – invites to limited-capacity events, sales etc.
News coverage or publicity your brand or network is receiving
Your news – new website features, growth, how things work, employee features
Tips and tricks – "Did you know", unique selling propositions (USP), help or customer service documentation, FAQ, explainers etc.
Quotes
Series or themes – creating the ultimate resource on X or a consistent column
Survey your readers
Publish the results of a survey
Create videos and promote them via your newsletter
Create a course or training material
Tell stories
Opinion piece or editorial letter
Ask questions
Testimonials
Custom offers/content based on user activity
Customer questions and answers or…
Customer questions that are unanswered for the community to help with
Case studies/white papers
Checklists or download
Remember, your newsletter is where your most loyal readers usually are. They invited you to their inbox. Treat subscribers well, be fun and helpful – but don't waste their time.
Have any ideas to add? Add them in the comments below!