While I could be snarky and say: "Step #1: go to Namecheap, type in a url, click purchase. You're done!" That's not why you're here! Buying the domain name is the easy part. It's picking a domain that can be tricky. Often times your business or name will already be taken, sometimes it makes sense to buy a domain from someone, but more often than not you can be creative and find something that works just fine.
Remember in the grand scheme of things it's what you do – what you create week in and week out – that is going to matter, not that few words you chose to represent everything it is that you do. However, you also want to pick wisely as the last thing you want to do is waste time changing your url down the road.
Need some ideas? Here's are some tips for picking a domain name for your business or blog:
1. Who are you? Who are you helping?
The first step is outlining what you're doing and why. It might sound silly or obvious, but even so it will help us reiterate what we're trying to accomplish – yep, the big picture – and what the purpose of this website and domain name is. Even if you don't quite know yet, this step will help us find out.
My Example: I'm a freelance marketer and I'm creating a website for my new business that will help small businesses, bloggers, and entrepreneurs. I want it to be my online professional "home" where I show prospective clients what I offer, and also where I showcase my knowledge and skills and help people learn things about online marketing (whether or not they end up hiring me for 1:1 consulting).
2. Write down everything that comes to mind about your business name and search for these first.
Think of this step as listing your "key words". If your exact business name is taken, or you haven't decided on a name yet, it can help to generate more ideas by playing a little game of sorts. First, list out all the words you think you might want to include, then look up the urls to see which ones are taken already, and make a note so that you remember which were available so you don't have to keep checking. I like using Namecheap's Bulk Options search so you can search all in one go.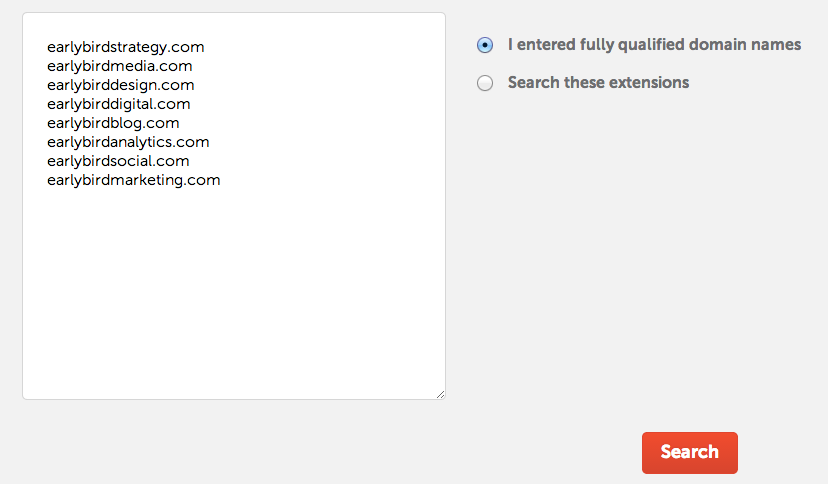 My Example: I decided on the business name of Early Bird Strategy, but not before I ran through a ton of other ideas, including:
Early Bird Blog – feels too narrow
Early Bird Media – taken
Early Bird Marketing – taken
Early Bird Analytics – too narrow
Early Bird Social – taken
Early Bird Digital – taken
Early Bird SEO – taken (doesn't represent overall strategy)
Early Bird Design – taken (doesn't represent overall strategy)
3. Thesaurus is your friend
So you probably have a handful of variations now that you're considering. Some might feel better than others, but still not quite perfect. The next step is to check out some synonyms. Are there some similar words you haven't thought of? Can you combine those with other synonyms for what you do or how you do it? Also check out Thesaurus.com's Visual Thesaurus feature.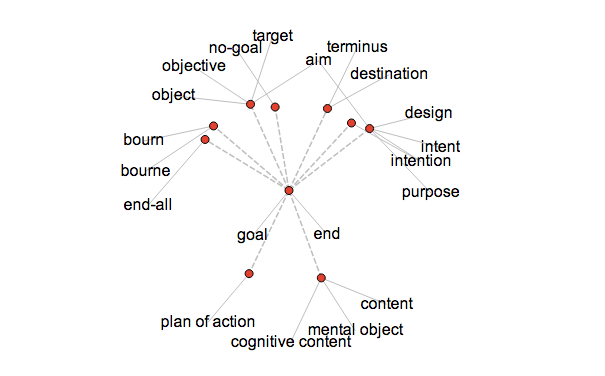 My Example: I looked up variations of "coach" and "plan". Think: teacher, guide, mentor, advisor, insider, helper, comrade, sidekick, plan, strategy. I then tried combining those words with other synonyms for what I'm doing: always changing, adapting, moving, fun, smart, savvy, efficient.
4. Think "opposites" or other interests
If you're technical, think softer skills or more "fun", or organic. How can you combine it with other interests that you have to come up with a fun name. Are you a consultant, but sustainability, is a big part of your values? Are you a designer, but you love to surf?
If you end up not using any of these ideas that you come up with in these exploratory exercises, remember to keep them around for future uses as well. You could use them for a blog series, product, course etc. down the line.
My Example:
Strategy or consulting? How can I combine nature with data (rain, tide, waves, sun type words)
How about interests? blog kitchen, social kitchen, blog craft, blog crush, blog happy hour, social brew, social swell, blog yoga, blog brew… You get the idea.
5. Think about names you don't like
Another idea is thinking about names that you don't like and what they have in common, and then try to move toward names that you do like.
My Example: I didn't like the the words: ninja, doctor, hacker etc. I couldn't 100% pin down why, but I partially felt like they're over-used, especially by males in the online space, and that made me want to move toward something less "ego-driven" sounding.
6. Decide if .com is required for you or if you would settle for .org, .net etc
While .com is still the easiest to communicate and still the first thing people think of, a case can be made for using a .org or another option. The choice is up to you, so decide if it's a deal-breaker.
My Example: for my domain I didn't want to use a .net or .org or any "-" dashes.
7. Add words or try the different tld route (.io, .co etc)
Another option – which may peg your url in the future to the 2008-2013 range – is mixing up the domain name or company name with an 'er' or a 'ly' – think of it as adverbing your domain. For example, some people add: get, app, ly, er, etc. These can all help you get to a domain that's both available and hopefully not 100% terrible. ;)
Another idea, what are the last two characters of your name or business? Is there a country code or tld that you could pick up that would make it fun? Try Domainr to find some fun examples of this.
My Example: oliviaraym.er or earlybi.rd or earlybird.co etc
Warning: Some tld options can be more expensive. For example, a .co domain and .com domain are about the same price for one year, but comparing reserving it for 3-5 years, it can be about twice as much!
Update: I recently ran across dictionarydomains.co which lists all the legit, unregistered single-word domains that are still available for .tld (.co, .io, .cc, .us, .it, etc.). A pretty cool project, and there are currently 2,314 domains listed!
8. Is this new domain name scaleable?
You want this new domain name to represent you well into the future. To rebrand and change your domain name every few years is a waste of branding and time. You're going to be spending time and money building a presence online, so make sure you won't regret this decision you're making now. Note: this isn't a good reason to put off buying a domain name for two years, just don't forget to give it a bit of thought.
While using your name as your domain can be a great strategy for some, others regret the decision and decide a year or two in that they no longer want their business to be at firstnamelastname.com – and then waste time and branding on migrating. It's not the end of the world, but if you can set up your process right in the beginning you'll be happier.
My Example: While I do own oliviaraymer.com and briefly considered using it, I decided that I wanted to have a domain name that wasn't just me. I don't currently have plans to hire anyone or turn into a huge company, but I do want to be a resource for small business and not just exist as my first and last name.
Remember, that just because you're selecting a unique web site url doesn't mean you have to go crazy with a duplicate social presence of you and the business. This is a bit further down the marketing road, but I decided for Twitter I would snag @earlybirdblog, and I can use it in the future, but for now I tweet business stuff from my Olivia Raymer account and my G+ account. But I have the option to expand this in the future. Think about how you want to handle this now.
Another thing to think about is your physical location. Be careful about adding things to your url that could change eg. Olivia in Portland or Early Bird Portland wouldn't be as scaleable.
9. List your favorite few and run them through this final test
Is it descriptive of what you actually do?
Is it short enough?
Say the domain name out loud to a friend or stranger (preferably to someone who's had a few beers). Any terrible reaction or confusion on how it accidentally sounds like something else?
Quickly type out the domain name and your hypothetical new email address. Did you accidentally misspell anything?
Most importantly, don't let analysis paralysis keep you from getting started. Make a decision. Move forward and don't regret it!
My Example: I narrowed it down to earlybirdstrategy.com and oliviaraymer.com and decided on the former. While there could be some confusion when first hearing my domain name that it's a website about strategies on getting up early, I figured it was good enough and I liked the "early bird" theme mixed with strategy. Who knows, maybe I'll add a few tips for early risers as well. :)
10. Secure that domain name!
This is the part where you fill in all your details and hold your breath as you click the Buy button! While there are a lot of options out there, I recommend Namecheap most often. The biggest add-on price that can mess with your total price is the Whois/domain privacy feature. This feature hides your name and contact info (address, email, phone #) from the public, which can help you get less junk mail or spam. If you have a PO Box already, this is less of a concern. Some domain registrars, like Hover, include it and call your domain an even $15/year, while others like Godaddy charge $7.99/year extra.
So whatever you choose to do, here's how some of the prices break down right now, if you want to …
just hold a .com domain name(s) for at least 1 year, Whois privacy doesn't matter: go with Namecheap
set up a WordPress blog at your new .com domain, Whois privacy doesn't matter: go with Bluehost (1st year of domain registration is free)
set up a WordPress blog at your new .com domain and Whois privacy DOES matter: go with Namecheap for the domain registration, and Bluehost for the hosting portion.
Note: While Godaddy is pretty prolific when it comes to domain registrar brand recognition, and the backlash of backing SOPA, I don't recommend them. Also, they're notorious for saying things like "domains from $0.99" and by the time you checkout you're sitting closer to $20. You've been warned.
Do you have any tips to add about picking a domain name? Leave them in the comments!