This is a Client Story of some of my work for BootsnAll Travel. I was a Product Manager at BootsnAll, meaning that I managed the planning and lifecycle of many of our Round the World travel resources. For this project, I was also responsible for marketing, graphic design, and half of the email content writing.
The Challenge: Too much content + round the world travelers feeling overwhelmed with planning
One of the challenges of being an older online content network was just how much content existed after 15 years of daily publishing. BootsnAll's round the world travel section had thousands of posts. These ranged from quality in-depth posts (articles covering everything from packing to how to pick an itinerary) to shorter forum-type content (community members asking questions about locations) and independent travel guides on destinations across the world. All of this content was scattered across several different domains and subdomains. Even after a content overhaul and redesign, the Round the World travel section was still so deep that it was difficult to guide users through.
When your sales funnel is months or even a year long, and your purchase price is in the thousands, taking a long-term view of your community and investing in the relationship early is key. Few people jump on Google Search and buy a $4,500 flight on a whim. This campaign was all about helping "Dreamers" move into the "Planners" stage.
The kind of people who "sell everything" and take round the world trips, are not the most conventional folks. There's not a one-stop way to plan or even learn about doing a round the world (RTW) trip. Having planned and traveled on a RTW myself, I knew just what our community meant when they emailed or commented expressing "overwhelm" or not knowing where to start.
BootsnAll's community could find what they were looking for from search and would spend hours browsing sections and learning about RTW travel. But when a trip like this takes weeks to sometimes years for some people to plan, there needed to be a better way – beyond a "Table of Contents" or people bookmarking where they last read – to showcase the very best. A way to cover everything you need to know about planning a RTW trip from idea to reality – beyond a checklist.
The Plan: a "Plan Your Round the World Trip in 30 Days" Automated Email Course

We had kicked around the idea of some kind of lesson plan "Codecademy" style course on how to plan a "round the world" trip, for a couple years. However, the programming team was already deeply involved in BootsnAll's trip planning tool, at that time, so there weren't extra resources for an experimental concept with unknown ROI or lead gen.
This project ended up being a test and trial of a different style of content and inbound marketing. I needed a way to build this product without developers. So I had the idea to create a 30 day automated email course for planning a round the world trip, with implementation through our email marketing service, Mailchimp. Using their autoresponder feature, I created 30 individual autoresponders – to send "1 day after", "2 days after" etc.
The course was managed in our current list through custom segments and settings. This also gave us the functionality to cross-reference the course in regular email campaigns (without annoying people who had already signed up), since our daily and bi-monthly newsletters were already managed through Mailchimp.
The idea was that by the end of the 30 days we would have covered everything that you needed to know to get you from thinking about a trip like this to actually on the road. This included support materials like a downloadable trip planning and budget spreadsheet for Day 3 and an epic RTW checklist for Day 29.
Each email consisted of a letter talking about that day's topic, a link to a more in-depth article that was either edited and republished or newly written for this campaign, a daily action step, a quote and travel profile from someone who had done an RTW trip, and a question for the community component. One of the big challenges for this initiative was getting all of the content ready.
The Result: Moving "Dreamers" to "Planners"
Plan Your Round the World Trip in 30 Days was launched in February 2013. Through pre-event promotion of the landing page via social, content cross-promotion, and existing email list, RTW30 was launched to a wait-list of 1,000 subscribers.
The campaign was measured via a Metrics spreadsheet in Google Drive. We tracked landing page signups and conversion weekly, signup conversion via channel (our own content, social media etc) on an adhoc/monthly basis, and daily attrition of open and click-through rates as the month went on.
After the first "30 days" signups funneled through we closed signups to track and refine for a relaunch. By really analyzing what was happening on an email-by-email basis, we were able to refine both the in-content emails themselves and swap some things around.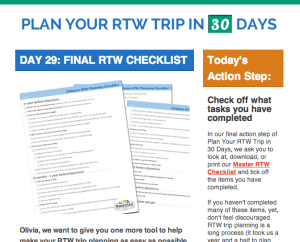 At the end of the campaign, we sent the participants a quick 2 question survey: by those that read and opened all the days, those that did some, and those that quickly dropped off. We first asked how likely they would recommend the program to a friend or fellow traveler – 0-10 scale – to collect a Net Promotor Score (NPS). The second question was for more qualitative feedback, asking what improvements would make their answer closer to a 10. This feedback was collected using Mailchimp's Survey Monkey integration.
In the year after initial launch, a second course option for Families was added, and a 3rd customization for career breakers followed. While BootsnAll could have charged for this course, it fell in-line as a lead generator for other revenue generating products like the multi-stop flight engine/trip planner – Indie.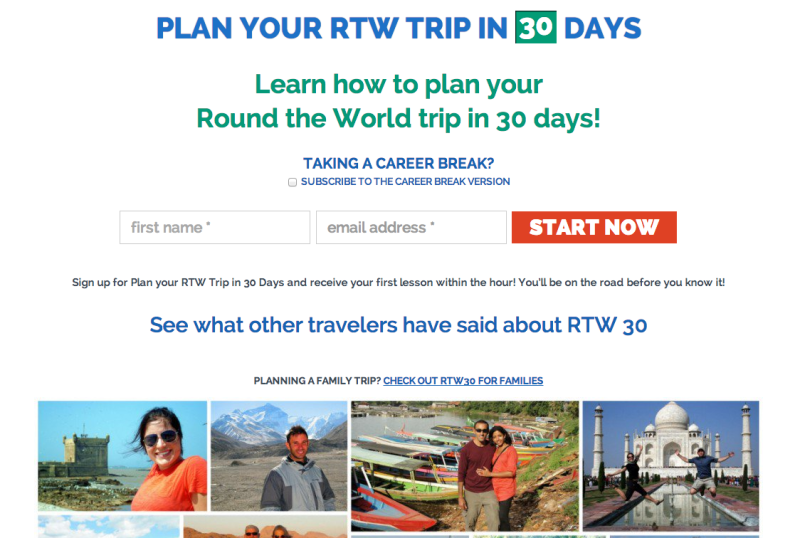 Key Metrics & Learnings:
4,500 travelers took the course in the first 8 months.
Net Promoter Score of 71% (NPS = Promoters [9-10 ratings] – Detractors [0-6 ratings], while Passives [7-8 ratings] are left out). More than double the highest rated in the company's history from a customer feedback perspective. This means our "promoters" vastly outweigh our "detractors", on par with brands like Trader Joes and Apple, vs the detractor-heavy Yahoo Travel and United Airlines.
52% of the course participants signed up to use Indie (BootsnAll's trip planning tool), and for 61% of those users the RTW30 campaign was their first experience with BootsnAll.
Readers are comfortable with content-heavy emails with a lot of depth when it's something that: adds a lot of value, was requested, and that you can't get anywhere else.
You can't track everything. Some users that appeared to be less active (not viewable in open rates) came through to express happy feedback – nice reminder of the importance of qualitative feedback.
The next sales funnel step after Planning was "Going"/purchase. Although it wasn't the goal of this campaign, we did see some sales attribution within the first 8 months.
User feedback: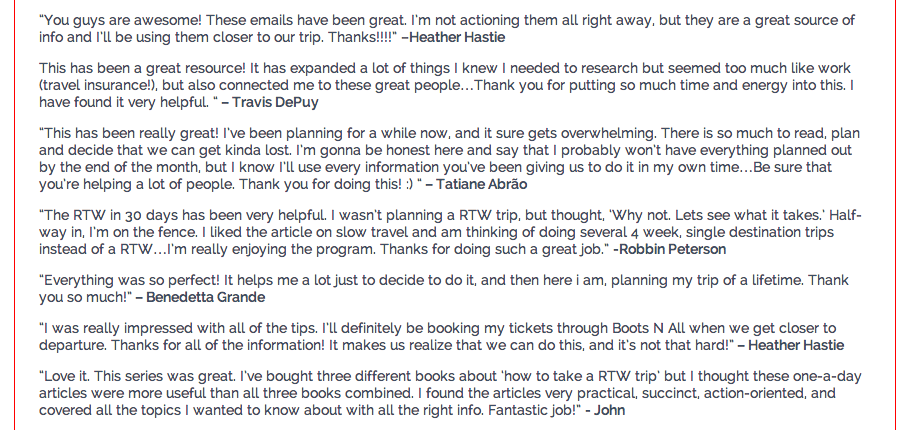 Find out how a creative inbound marketing campaign can grow your business, community, and sales funnel. Email me.