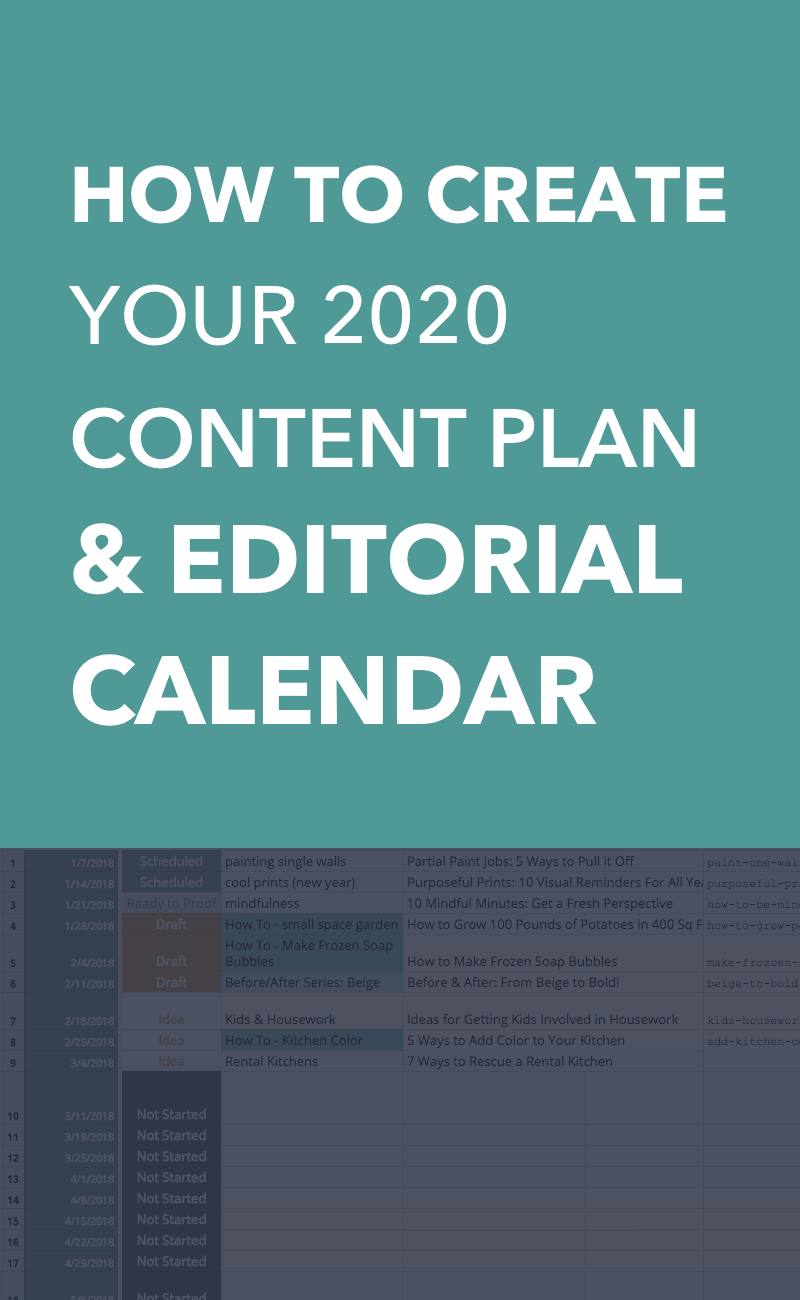 Why do you need a content plan for your blog and business?
A content plan or strategy helps you produce the right content, for the right people, at the right time. An editorial calendar template gives you a process for producing content on a consistent basis.
Free Guide: Become your own
Content Strategist with these lessons
Get quick, actionable advice on how to use content to grow your business.

7 lessons, delivered to your inbox each day.
You probably already have content. You probably want to keep creating content – blog posts, articles, videos, podcasts etc. – on a regular basis. A content plan helps you make your content work for you. One of the toughest parts of marketing is getting your plan right in the first place, so that you can execute on that plan. If you're like most humans on the Internet, there's always something to disrupt or distract you. What if you miss the next big thing? It's easy to get distracted. That's why you need to set aside time to plan and create – so you can produce content on a consistent schedule. Having a plan keeps you confident that you're moving in the direction of your goals.
Plan your content. Grow your traffic. Save time.
Content Plan Lessons:
Lesson #1 – What are your intentions and goals for creating content?
How will content help your business or blog? Are you wanting newsletter signups, event registrations, downloads, shares, visits etc? Or some combination of the above? As with starting any new project, it's important to know what your goals are and how you'll measure them.
Lesson #2 – Discover what you should be writing about
A good content plan includes a look at who your audience or readers are? How to know where to focus your niche. This lesson is all about asking yourself what do you know and what do other people want to know? Plus tips and tools for SEO.
Lesson #3: Decide your post frequency & available resources
How frequently can you commit to publishing? Monthly, weekly, weekdays, daily, 4x day etc.? Selecting a frequency helps you plan the rest of your marketing and your resources (such as as other team members, authors, guest posts etc.).
Lesson #4 – Using themes and holidays to tie your content together
Picking monthly themes (even if just internally) can help you not only think of post ideas, but also tie your content together in a cohesive way. You can use monthly or weekly topics, categories, or themes. Plus, consider how holidays impact your content schedule. It helps to keep an eye on current events and holidays when planning future posts, even if not every holiday affects your business.
Lesson #5 – Brainstorm new content
Now that you have a full list of themes, it's time to brainstorm new content ideas. This includes whether you will you do any series type posts and tips and tools for coming up with content ideas.
Lesson #6 – Getting results from your content
How does your content tie back into your business? Measuring the results of your content is a long game. We'll cover how content is an important piece in launching any new products, events, contests etc. Plus, we'll take a look at what you have planned for the coming year, and how you plan to distribute and promote the content that you're creating (for example: your newsletter, social media, Pinterest campaign, blog partnership, blogger outreach, some combo of above etc.)
Lesson #7 – Your 90 Day Plan
In the final lesson, we'll map out your next 90 days of content and commit to consistent writing. After your plan is in place, you'll check in on it to make adjustments. Need to lower frequency? Do it! Ditching a theme? That's learning and progress!
To get started with your content plan, sign up for your free content plan lessons here.
Or get the lessons and instant access to the 2020 Editorial Calendar Template:
The purpose of this Editorial Calendar Template download is to plan out your content for the year. With an editorial calendar template, you can keep track of post ideas, the status of posts, holidays, monthly themes, goals, and even how you plan to market your content.
You can complete as much or as little as you need at a pace that suits you. So outline the whole year, or work a month at a time, or even a week at a time. The important thing is that you have a plan to follow instead of starting from 'scratch' each week.
One of the most important reasons for having an editorial calendar template is that instead of sitting down every day or week to plan and create, you're simply following through on a process you already created. By putting a structure in place, you can check in weekly or monthly, or even quarterly and review what you're doing and why.
What people are saying about the Content Plan:
"Thanks so much for this update! We have used your calendar since 2014 and it's great! I appreciate the work that goes into this!" -Kelly C.
"Really clear and useful!" -Mary R.
"As a one-person business there are never enough hours in the day and I find myself getting pulled in different directions. I downloaded the Editorial Calendar and have tweaked it to my needs. Thanks for sharing!" – Paula K.
"Thanks it is already helping a great deal." -Crystal L.
"This is wonderful. Thanks SO much." -Jessica P.